ExCash will be rated as the most advanced virtual asset in ExMind.
ExMind is a platform for exchanging various points, rewards and reserves that exist in the on/offline world, using block chain-based encryption currency.
ExCash is the encryption currency used in these transactions.
Road-show launching
The best time to get a huge benefit. Only those who grab the chance fastly can takes it all. We will invite you to share our values to Road-show and see for yourself!
1st pre-sale
October 1, 2018
1 ETH = 6,000 ExC
up to 20% bonus
–
(End Date: October 31, 2018)
Strategic partnership
ExMind platform has a strong partnership and bound tightly each other for co-prosperity. We are always looking for entrepreneurs who can share a value with us for future ecosystem.
2nd Pre-Sale
November, 1, 2018
1 ETH = 5,500 ExC
up to 10% bonus
–
(End Date: November 30, 2018)
Final boarding
It is right on time. It is time to make your choice and also the last moment to success with us. You will be able to see that your dreams become a reality. We go together!
ICO Sale
December 1, 2018
1 ETH = 5,000 ExC
no bonus
–
(End Date: December 31, 2018)
ExMind is the ecosystem platform, a suite of exchange, commerce, and payment systems, facilitating a wide and frequent use of Virtual Assets (i.e. reward points, mileage). It enables consumers to freely use their online/offline acquired Virtual Assets based on blockchain cryptocurrency, ExCash.
Our aim is for ExMind to become the unifying hub connecting thousands of incompatible virtual assets into a single, universal cryptocurrency, ExCash ; thus, to develop an ecosystem that facilitates the public to exercise and realize intrinsic values of unused Virtual Assets (reward points, game money, mileage, digital discount coupons, etc.).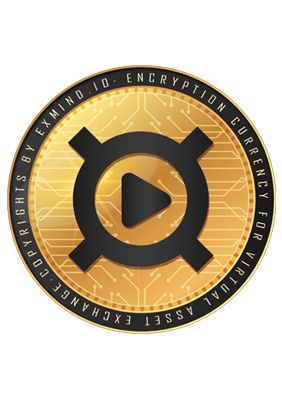 Virtual Assets
What is ExCash?
ExCash will be different from other cryptocurrencies that are generated by POW  or POS  by users. ExCash is generated and its value is based on measurable and quantifiable value of Virtual Assets.
ExCash solves a huge amount of unredeemed, dormant Virtual Assets due to their closed, restricted, and disconnected ecosystems. ExCash, as a single, unifying currency, promotes frequent and regular consumption of Virtual Assets; a win-win situation for both VA owners and VA providers with expected high turnovers.
Extension of ExMind Engine
The center of advertising and commerce service area.
ExCast accepts and process payments for products and services it advertises and supports both physical and online retail transactions.
ExCast displays the QR code of the product advertised, in real-time, so that users can easily purchase and pay for it using ExCash mobile/NFC card wallet.
Point shops are available at 'ExCash Smart Wallet' by replacing 'ExCash (EXC)' with 'ExPoint (EXP)'.
ExCast - System
ExCast ad and ExCash payment system, With a platform that can leverage ExCash, you can do more marketing.
One of the key features of the ExCast system is that it supports payment functions for compatibility or replacement with existing PoS systems.
To do this, the seller's ExCash e-wallet address is output in QR code format and the buyer completes the payment by scanning it with the payment function of ExCash e-wallet.
Compare it with an existing block-chain-based system.
eco system
ExMind platform are added advanced private block-chain in order to overcome previous public block-chain that slow speed for e-commerce. Now we are able to serve more variety services.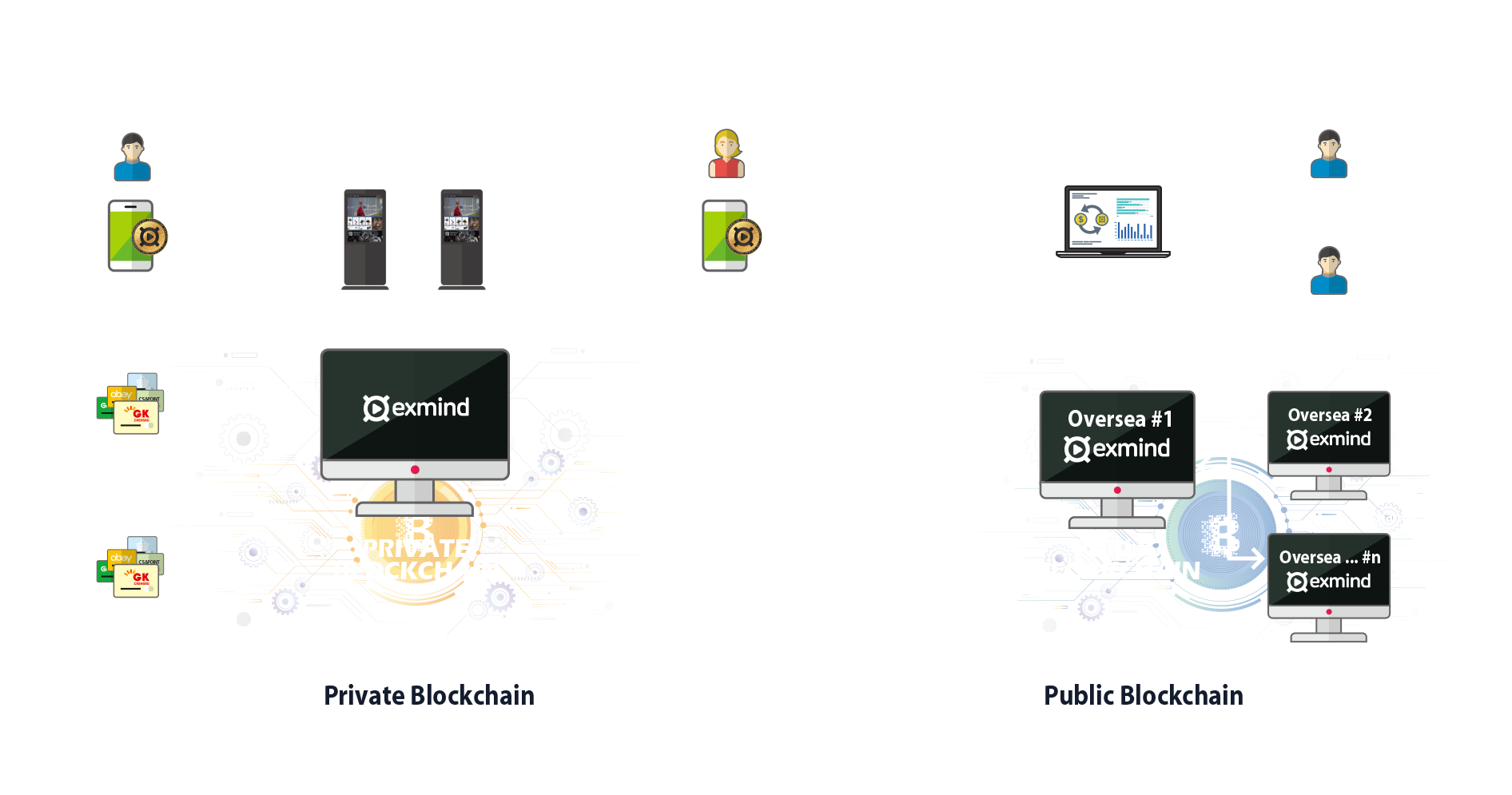 Roadmap
How it all Started
2018.06.01
ExCash blockchain Testnet Generation and DAPP test complete
2018.06.15
ExCash Moblie Wallet Testnet Compiled and tested.
2018.06.20
ExCast Android / ad / unattended shopping function is made and tested.
2018.07.01
Private Token Sale (bonus for 60 days)
2018.07.15
ExCash BlockChain Mainnet Generation and DAPP
2018.07.20
ExCash Mobile Wallet MainNet Compile
2018.08.01
Notice for recruitment of ExCash platform partners (Korea)
2018.08.10
1st Road Show (Seoul, Korea)
2018.08.21
1st Meet UP (Malaysia)
2018.09.12
2nd Meet UP (Malaysia)
2018.10.01
First Pre-sale (bonus 20% for 30 days) and Air Drop Event (10,000,000 ExC)
2018.10.10
Overseas (Taiwan) virtual currency exchange listing test and contract
2018.10.15
2nd Road Show (Taiwan)
2018.10.20
3rd Road Show (Singapore)
2018.11.01
2nd Pre-Sale (bonus 10% for 30 days) and Air Drop Event (10,000,000 ExC)
2018.11.10
ExMind Limited (Hong Kong headquarters) established overseas marketing partner
2018.11.15
4th Road Show (Tokyo, Japan)
2018.11.20
5th Road Show (Hong Kong)
2018.12.31
Overseas (Taiwan) Listed on Virtual Currency Exchange and Celebration Event
2019.01.20
Promoted ExGame & ExDisk API and business partnership
2019.01.30
ExMind platform virtual asset exchange enforcement
2019.04.20
Korea Virtual Currency Exchange Listing & Celebration Event
2019.07.20
Japan Virtual Currency Trading Certificate & Celebration Event
2019.10.20
Singapore Virtual Currency Trading Certificate & Celebration Event
Meet Our Brilliant Minds
Our Team
Seung-kee Oh

· Founder, CEO of ExMind Corp & ExMind Limited.
· CEO of Giltz & NGDC Partners Ltd.
· (Pre) CEO of Myplan USA Corp.(Nasdaq IPO)
· Publisher of Consumer News(Monthly)
· B.A. of Economics, Chung-Ang Univ.

Edward Kim

· Founder of ExMind Corp & ExMind Limited.
· CEO of NGDC Corp.
· General Security Manager of NGDC Corp.
· Ddos defense Technician of NoDdos.net
· Security Advisor of KT, SK, LGU+.
· Developer of Auto Anti Ddos Attack Algorithm
· Doctor of Electrnic Engineering, PK Univ, Korea.

Sang-min Yoon

· Manager of Windows & Linux Server system
· Manager of Network system
· Android Software Engineer
· Game Developer
· CTO of Sayglory Corp.
· CTO of MobileBus Corp.
· CEO of Enitron Corp.

Cheol-ho Choi

· President of Oscar Development Ltd.
· Vice President of Blue F&C Ltd.
· General director of the district preservation association
· Senior Vice President, Korea NGO Association
· Vice Chairman of the National Sports and Recreation Association

Jeong-joo Lee

· Ceo of HD&I Ltd.
· Director of Songsan Industrial Complex Development
· Director of Dong Hyeon Medical Foundation Hanseo Hospital Planning
· Shipbuilding Engineering, Chosun University graduation

Seung-weon Kim

· CEO of SKIM Beauty Group.
· Beauty Artist of MBC, GSShop, CJ E&M, JTBC.
· Entry member in Beauty show of KBS, MBC, SBS.
· Genral manager Makeup & Hair of K-POP Star
· (Pre) Member of Christian Dior in Korea.

Sung-soo Kim

· 20 years of experience in financial accounting professionals
· Domestic and Overseas Investment Experts
· Accountant, tax accountant

Kwang-Chung Park

· CEO of JupiterSystems Corp.
· General Security Manager of JupiterSystems Corp.
· Management Service Advisor of IDC
· N/W, Security Consultant, Technician
· Korea Institute of Science and Technologoy Information Consultant

Philip Noh

· Web Designer Certifivation
· Computer Graphic Operator Certification
· Member of Adobe Certified Expert
· Web planning & html5 Standard Web Coding

Jeoung-joon Yoon

· Ddos Defense Technician of NoDdos.net
· Network & Server Manager of NGDC Corp.
· Manager of Windows & Linux Server system
· Manager of Network system
· Android Software Engineer
· Game Developer
Foundation of Our Success
Our Advisory Board
In the News
Media about us
Token Release
Data on Token Conversion Rate.
| | |
| --- | --- |
| Start: | July 1, 2018,  00:00 AM (GMT+9) |
| Hard cap: | $30m |
| Soft cap: | $3m |
| Token: | ExC |
| Exchange rate: | 1 ExC = 0.10 USD |
| Project protocol: | ERC20 / QRC20 |
Payment Methods

ExC Token ERC20 Contract Address
[0xd46c213b00d3ea63e9efd50e2a873937dc635da5]

ExC Token QRC20 Contract Address
[4c7e57efb3c55c398fae08c64d2a1d25019bcc4f]
The following address is for the ExC token contract. It is NOT a deposit address. Do NOT send tokens to it. To deposit, use the Deposit form in the Tokensale platform.
Token Structure
Deployment plan of ExCash
Founder of ExMind platform owns 20% of the ExC.
– The ICO Advisor holds 5% of the ExC.
– Buyers own a 10% of ExC through ICO Pre Sales.
– On the ExMind platform, 50% is circulated through exchange with each virtual asset that users own.
– 15% is reserved for stable risk management of ExMind platform.
50% VA Exchange
20% Founder
15% Reserve ExCash
10% ExCash Sale
5% Advisor
5% Legal costs
5% Exchange registration fee
15% Marketing cost
15% Infrastructure construction cost
15% R&D
20% ExCast system deployment costs
25% ExMind platform investment costs
Investment Fund Allocation and Planning
Distribution and Usage Plan
To ensure the stability of ExC's Private BlockChain and Public BlockChain, ExMind
platform configures the BlockChain Generator Farm Pool in its own Internet Data
Center (IDC). As a result, solutions that link the ExMind platform and its associated APIs can be traded in real time.
We have the world-class defense equipment and server system for the stability and security of ExC Block Chain, which is guaranteed in real time by the relevant company.